Italian skills and craftsmanship
Today, thanks to the continuous experimentation of Tamburo's R&D team and the indications from the musicians working with us, we succeeded in redesigning and improving the product, adjusting to the new demands of international markets and the finest drummers.
The shell building technology has now been improved with cnc cutting tools, and thanks to a new tapping shape and a specific PU glue we have been able to reduce the stave thickness to only 6mm. This makes our shell structure more compact and solid than ever.
The slat consists of:
1. an outer HPL layer made covered with melamine or wood finishes coated with PU paint
2. birch plywood featuring five layers with phenolic gluing
3. the inner layer is coated with polyurethane (PU) paint to protect the wood from humidity
4. internal reinforcement rings in beech wood strips to tie together and tighten the shell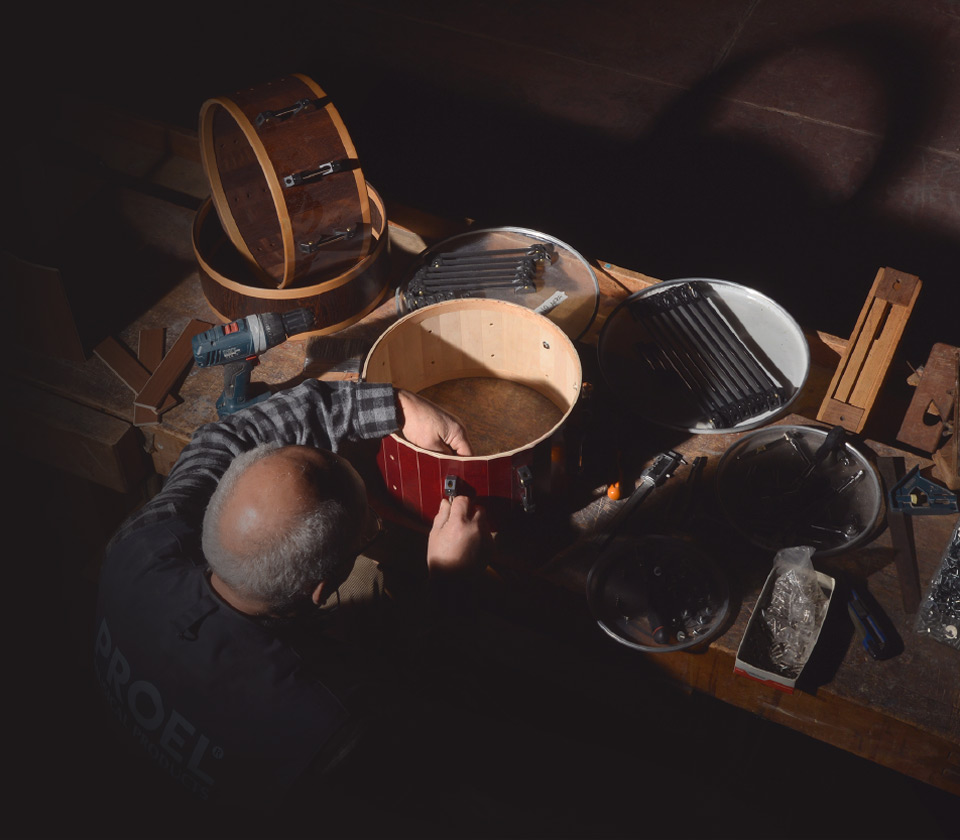 Shell and staves composition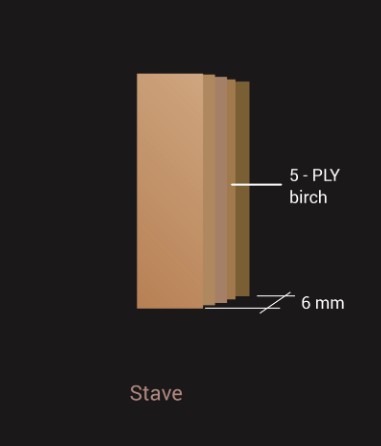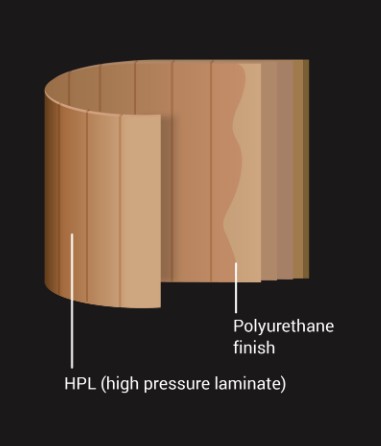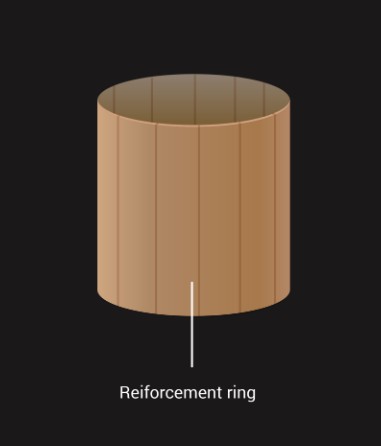 Both wood and technology are vital when defining the perfect shell. Choosing  materials is important, but what matters most at TAMBURO, is how we use our the right wood to make quality instruments. This represents the construction ideology and technical thinking that guides us in our choice of the very best natural woods. In fact, we assess the individual characteristics of the wood we use during a prototyping phase, on which we base our final decision.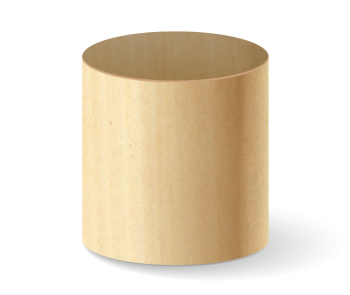 At Tamburo, we've revolutionised Italian poplar wood to make our unique UNIKA series shell. Lightness, considerable flexibility, mechanical resistance, homogeneity, and excellent bonding characteristics These are necessary, high-value qualities that allow us to create innovative multilayers, which we combine with HPL (High Pressure Laminate).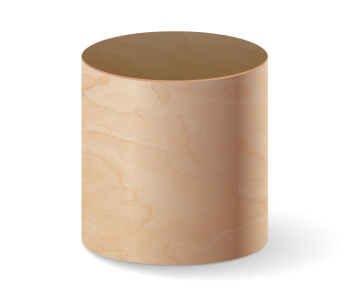 We use multi-layered birch wood with phenolic bonding: the perfect way to produce staves for  the polyhedral cylinder shape of our OPERA series shell. A unique characteristic of this prestigious drumkit.
This multi-layered component guarantees high mechanical performance, with an excellent weight/performance ratio. It is attached to an external HPL using vinyl glue, thus achieving a total thickness of just six millimetres. This is the optimal thickness the incision we create to attach slats.
Using melamine laminate to make acoustic drums is one of TAMBURO's most important innovations. We started experimenting with its use back in 1992, when the polyhedral TAMBURO Opera was first created. We use laminate, also known as formica, for the drumkit's colour and finish, which comes in a blue, green or bronze 'mineral lacquer.'
However, at TAMBURO we don't stop there. We also use it to make our traditional circular shell drums. Starting with melamine-treated laminate, we use these bands (which vary in thickness from 0.8 to 0.9mm) to produce the inner and outer layers of the shell and bass drum hoops.
The two layers lend a solid, rigid structure to the barrel and hoop, which is fully "customisable" in terms of aesthetics.
Glue is a key component in the construction of a shell. And it's vital that it guarantees a strong, long-lasting "grip" over the years. It's also important to assess how it interacts with the products it is tasked with joining together, taking into consideration the wood's humidity rate and how the glue reacts to other external agents. After gaining more than thirty years of experience in the business, TAMBURO  opts for a single-component polyurethane adhesive. This particular adhesive is applied with specially-built, unique moulds in order to guarantee precise, stable and long-lasting bonding. Lending a stable, compact and long life to the OPERA and UNIKA drums, as well as to bass drum hoops.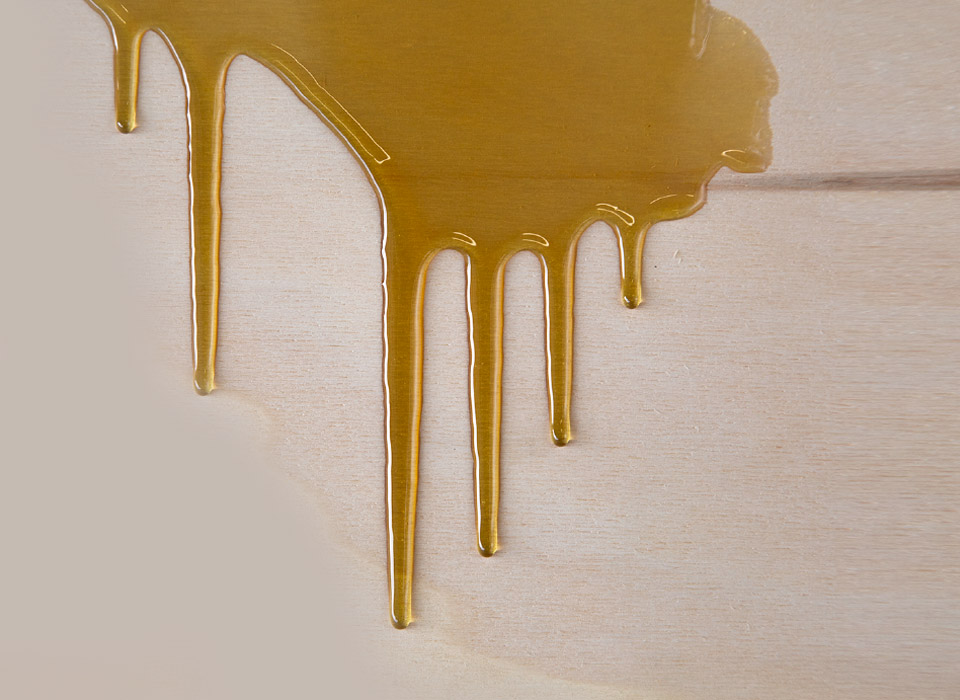 13"x 3,5"/5"/5,5"/6,5"/8"
14"x 3,5"/5"/5,5"/6,5"/8"